It's An Alice And Oscar Weekend in LA: Alice In Wonderland Opens, Academy Awards Sunday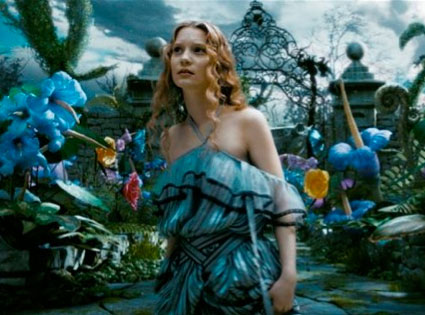 It's quite a weekend to be named Oscar or Alice…
The excitement is building to see how the much anticipated 3D film, "Alice In Wonderland" will do at the box office.  Tim Burton's fantasy looks to be huge for audiences of all ages.  Here are some stories we have done leading up to opening day:
Alice's Royal World Premiere- London (Video)
Hollywood MySpace Premiere w Tim Burton (Video)
Wired Video- Johnny Depp On Playing Mad Hatter (Video)
This Sunday evening (March 7) is the 82nd Annual Academy Awards at the Kodak Theatre in Hollywood.  There are two highly anticipated showdowns for awards…  In the Best Picture category, "The Hurt Locker" looks to keep James Cameron's  "Avatar" from having a titanic night.  In the Best Actress category, Meryl Streep and Sandra Bullock both look to be strong favorites for the statue.  Steve Martin and Alec Baldwin will share hosting duties.  Be sure to tune in on Sunday.  Here is a complete list of nominees.
HIMag's Take:  We are huge fans of Johnny Depp and can't wait to see Alice.  Sunday night will be carried by the comedy of Martin and Baldwin- could be one of the more entertaining award shows in memory with 2 highly contested races and the expansion of the Best Picture category from 5 to 10 films.