UCLA Football: Top Quarterback Hundley Commits To UCLA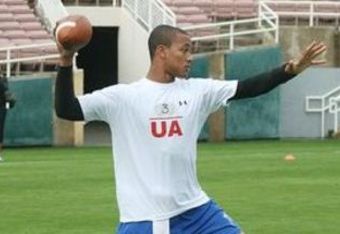 In news that could be a program-changer, senior Quarterback Brett Hundley committed to UCLA this weekend.  The 6-4 210lb quarterback is from Chandler, Arizona.  Arizona's 2009 Gatorade Player of the Year finished off his junior season with over 1,500 passing yards and a 16-2 TD to INT ratio. He also rushed for over 1,200 yards and 12 TDs.  For his efforts, Hundley was honored as a first team All Arizona selection and the Fiesta Region Offensive Player of the Year.
He is currently rated as the No. 7 ranked dual threat quarterback by Rivals and the No. 6 ranked by Scout.  Hundley's decision came down to two PAC-10 schools- Washington and the Bruins.  He was also offered by a host of Pac 10 schools including Oregon, Stanford,  Arizona, as well as other top tier schools around the nation such as Nebraska, Michigan, and Texas A&M.
Bruin head coach Rick Neuheisel was in need of some good news after Saturday's disappointing loss on the road at Kansas State.  UCLA's quarterback play was not fun to watch, nor were the 4-8 crucial drops by Bruin receivers.  Senior quarterback Kevin Prince ended up just nine of 26 for a measly 120 yards.  Prince has not been able to practice much in the preseason because of an oblique injury.
"It's a huge get; this is on par with Malcolm Jones last year, an impact player at an impact position," Scout.com's Brandon Huffman said. "The highest-rated from the high school ranks, and first time they've gotten a top quarterback prospect on the west coast in a long time."
After a Top 10 recruiting class this past season, the addition of Hundley represents a turning of the corner at UCLA.  How many other top recruits follow is a matter of speculation, but this is definitely a milestone in the resurrection of the Bruin program under Neuheisel.