Who Dat? New Orleans Saints Win Super Bowl XLIV, Brees MVP
Congratulations to the New Orleans Saints for winning Super Bowl XLIV!  What a win for the City of New Orleans!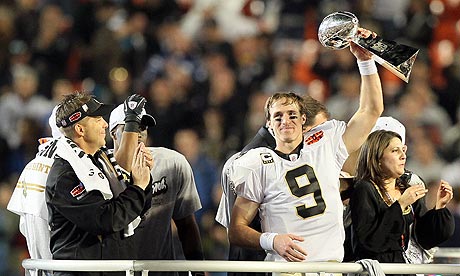 Photograph: Jed Jacobsohn/Getty Images
Rallying from a 10-point deficit against the great Peyton Manning, the Saints dominated the fourth quarter and pulled out a 31-17 victory over the highly favored Colts Sunday night in Super Bowl XLIV at Sun Life Stadium.  Quarterback Drew Brees tied a Super Bowl record with 32 completions, hitting 32 of 39 for 288 yards and two touchdowns. He was named the MVP.  Coach Sean Payton devised a masterful game plan that had the Saints offense rolling on all cylinders after being down by 10 after the first quarter.
Manning (31-for-45, 333 yards), pulling a Bill Belichick, walked off the field immediately after the game, avoiding the traditional congratulatory handshake.